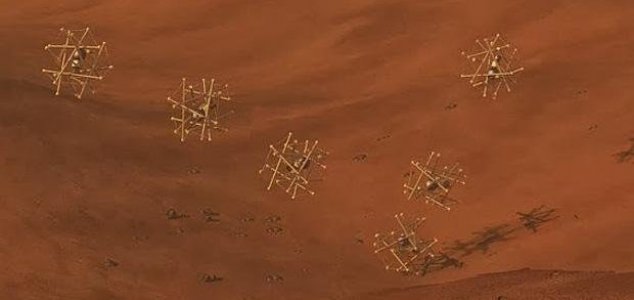 The ball bots could be sent to explore distant worlds.

Image Credit: NASA
NASA has developed a new type of landing apparatus that could make exploring other worlds much easier.
One of the most cost prohibitive elements of placing a rover on another planet is the landing procedure. Traditionally, landing requires a complex set of stages involving retrorockets, parachutes, airbags and other mechanisms to get the spacecraft safely on to the ground.
To tackle this problem, researchers at NASA have developed a completely new style of landing system, one comprised of a flexible robotic exoskeleton capable of changing its shape and absorbing any impact with the ground.
NASA believes that its
Super Ball Bot
could survive being dropped from a height of up to 60 miles and then once on the ground could roll around on the surface by changing the length of its cables. It would even be possible to deploy several of them at a time, widening the possibilities of exploration for a single mission.
The space agency believes Saturn's moon Titan could be an ideal target for the new system as it sports a dense nitrogen atmosphere that could help to cushion the spacecraft's fall. Titan's uneven terrain would also make the proposed rolling mechanism superior to traditional wheeled vehicles in exploring the moon's surface.
Source: Red Orbit | Comments (5)
Similar stories based on this topic:
Tags: NASA, Super Ball Bot