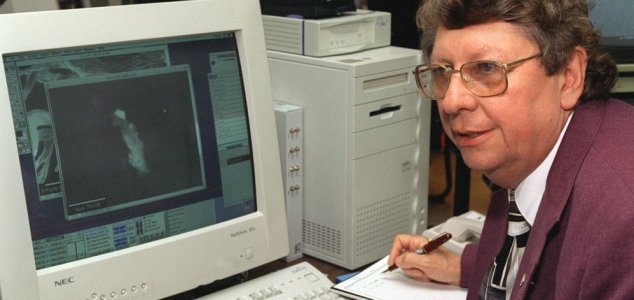 Richard Hoover working at NASA.

Image Credit: NASA / Marshall
Richard Hoover will be presenting his evidence for alien life at the International UFO Congress.
The controversial retired NASA astrobiologist has been a prominent figure for years thanks to his belief that conclusive evidence of extraterrestrial life has already been found.
Hoover grabbed the attention of the media back in 2011 when, while still working at NASA's Marshall Space Flight Center in Alabama, he submitted a paper to the Journal of Cosmology claiming to have discovered evidence of microfossils inside a meteorite.
Harvard astrophysicist Dr. Rudy Schild, the journal's editor-in-chief, stated at the time that the paper had been peer-reviewed and that he had agreed with Hoover's conclusions, however the findings remained controversial and many scientists rejected the idea that what he had found in the meteorite was evidence of alien life.
Now Hoover is set to present some of his work at this year's International UFO Congress which runs from February 12th-16th in Arizona.
"People interested in UFOs are no strangers to controversial topics, and they are also fascinated by the search for extraterrestrial life, so it seems to be the perfect venue for Hoover to present his thought provoking evidence," said co-organizer Alejandro Rojas. "The potential implications of his work are mind-blowing, which is a fact that is certainly not lost among a group of UFO enthusiasts."
Source: UFO Congress | Comments (26)
Tags: Richard Hoover, Extraterrestrial