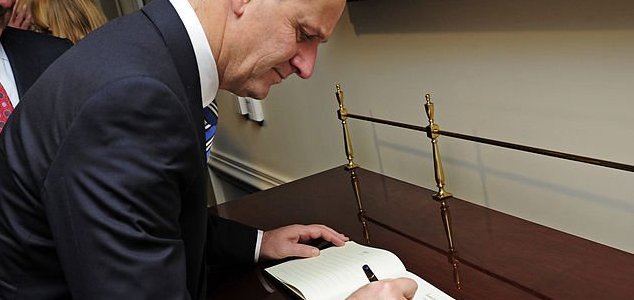 John Key during a visit to the United States.

Image Credit: USAF
Prime Minister John Key offered a formal response to a particularly strange Open Information Act request.
Some conspiracy theorists have long argued that world governments are being controlled by forces from above, but one person in New Zealand decided to take this one step further by submitting an Open Information Act request asking Prime Minister John Key to prove to the world that he isn't a "shapeshifting reptilian alien ushering humanity towards enslavement."
Key opted to respond to the request in a somewhat tongue-in-cheek manner by insisting that he is not a reptilian and that he is most assuredly 100% human.
"I've taken the unusual step of not only seeing a doctor but a vet, and both have confirmed I'm not a reptile," he said. "I've never been in a spaceship, I don't have a little green suit and I've never been to outer space."
Source: New York Daily News | Comments (49)
Tags: John Key, New Zealand