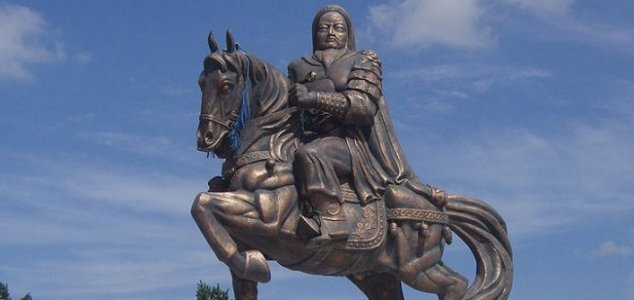 A statue of Genghis Khan.

Image Credit: CC BY-SA 3.0 Fanghong
Scientists believe a record-breaking spell of warm and wet weather contributed to Khan's success.
Known as one of the most successful leaders in history, Genghis Khan rose to power as the head of the Mongol Empire in the 13th century. Many have attributed his success to his unrivaled ruthlessness and cunning, but now researchers in the US have uncovered evidence that the weather may have also been a significant factor.
In the years prior to Khan's rule many parts of the world were in the grip of a long period of severe drought, but as the Mongolian leader rose to power in the years that followed there was an extensive period of warm and wet weather, providing the ideal conditions for his conquests.
"The transition from extreme drought to extreme moisture right then strongly suggests that climate played a role in human events," said study co-author Amy Hessl. "It wasn't the only thing, but it must have created the ideal conditions for a charismatic leader to emerge out of the chaos, develop an army and concentrate power."
Source: BBC News | Comments (11)
Tags: Genghis Khan