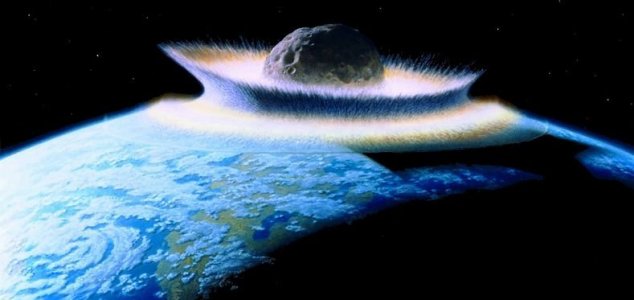 An asteroid is believed to have wiped out the dinosaurs.

Image Credit: NASA/Don Davis
Could a disc of dark matter on the galactic plane have triggered an apocalyptic asteroid impact ?
While there is little doubt that a devastating asteroid collision was a major factor in the extinction of the dinosaurs, some theoretical physicists are considering whether there may have been an external factor at play that tipped the odds in favor of an impact taking place.
The culprit, they argue, may be a thin disk of dark matter that is thought to run through the galaxy. Whenever our solar system passes through this disc it produces a slight gravitational push that has the potential to flings asteroids and comets in our direction.
This idea would help to explain several mass extinctions due to asteroid impacts throughout our planet's history. The cycle is believed to repeat every 35 million years, a figure that is statistically supported by known impacts over the last 250 million years.
Source: Nature.com | Comments (45)
Tags: Dinosaur, Extinction, Dark Matter