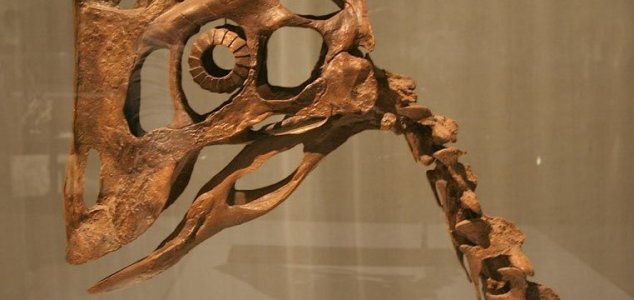 Anzu had a peculiar crest on the top of its head.

Image Credit: CC BY-SA 2.0 Kabacchi
Archaeologists have unearthed a strange bird-like dinosaur dating back more than 66 million years.
Known as
Anzu wyliei
, the species would have resembled something of a cross between a bird and a reptile with its beak-like head, bony crest and a long lizard-like tail. A US team discovered definitive evidence of the creature in the form of fossils unearthed at sites in North and South Dakota.
"Anzu is really bizarre, even by dinosaur standards," said palaeontologist Hans Sues. "The skull has this extraordinarily tall and thin crest with a snout and a huge beak with sharp edges and a strange sliding jaw joint."
Its appearance, combined with the fact that some of the fossils were found at a location known as Hell Creek, lead researchers to nickname it "the chicken from Hell".
"We had inklings that there might be such a creature out there, but now with these bones we have 80% of the skeleton and can really look in detail at the structure of this animal and make inferences about its biology," said Sues.
Source: BBC News | Comments (15)
Similar stories based on this topic:
Tags: dinosaur, bird