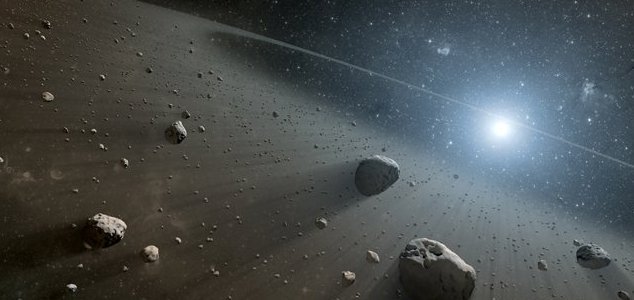 The asteroid belt between Mars and Jupiter.

Image Credit: NASA/JPL-Caltech
Scientists have discovered a double-impact site in Sweden thought to be the result of a binary asteroid.
An asteroid impact can be devastating enough, but what happens when there are two asteroids orbiting one another ? Researchers believe that such a circumstance occurs much more frequently than one would imagine and that up to 15% of impacts come from binary asteroids.
Now a team of researchers led by Dr Jens Ormo from the Centre for Astrobiology in Madrid believe that they have identified two impact craters in Sweden known as Lockne and Malingen that are in fact likely to have been produced by such a collision.
The scientists made the determination by analyzing tiny fossilized sea creatures from both craters and dated them back to the same time period. While it's impossible to be sure, indications are good that the two craters were formed at the same time around 290 million years ago.
"Short of witnessing the impacts, it is impossible to prove that two closely separated craters were formed simultaneously," said Dr Ormo. "But the evidence in this case is very compelling. Their proximity in space and consistent age estimates makes a binary-impact cause likely."
Source: Independent | Comments (6)
Similar stories based on this topic:
Tags: Asteroid