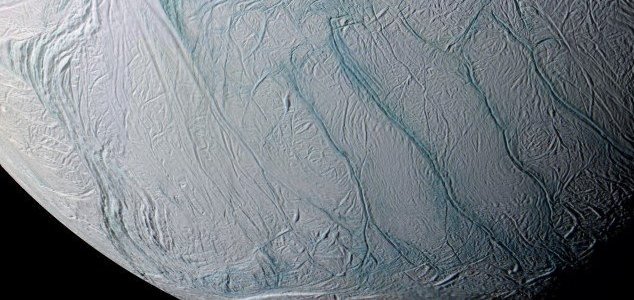 A close-up view of Saturn's icy moon.

Image Credit: NASA/JPL
New data from the Cassini space probe has confirmed the presence of water under the moon's surface.
Saturn's moon Enceladus has been of great interest to scientists ever since images showed that there appeared to be jets of icy material shooting up in to space along its south pole.
Now thanks to new measurements from NASA's Cassini spacecraft it has been confirmed that this distant body is also home to a large body of liquid water deep down below its icy surface.
"The measurements that we have done are consistent with the existence of a large water reservoir about the size of Lake Superior in North America," said Prof Luciano less.
The discovery elevates Enceladus to the status of being one of the most important places to go to look for evidence of alien life within our own solar system. Just like on its Jovian cousin Europa, a subterranean liquid ocean could make it the perfect place to find extraterrestrial organisms.
Source: BBC News | Comments (17)
Tags: Enceladus, Saturn, Water