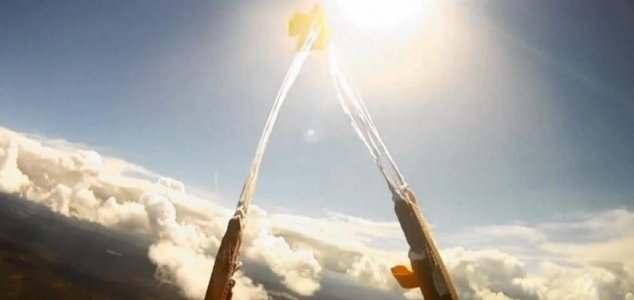 Helstrup filmed his descent.

Image Credit: YouTube / nrk / Anders Helstrup
Anders Helstrup had been parachuting over Norway when he was almost hit by a falling space rock.
The chances of being struck by a meteorite are infinitesimally small, yet Helstrup came perilously close when one whizzed past him during the skydive two years ago.
At the time of his descent the parachutist hadn't actually observed the falling meteorite at all, it was only when he later reviewed footage recorded by the two cameras he had mounted on his helmet that he noticed the rock falling next to him.
Perplexed by the footage, Helstrup consulted with experts who revealed that the rock appeared to be a meteorite that had been cooled and slowed down by the atmosphere. It is the first time such an object has ever been caught on camera while falling.
The race is now on to find where the object hit the ground.
"There is a forest with lots of different places it can easily disappear," said Helstrup. "Even if there is several areas where it would be found easily, there is a river, some marshy spots and areas and lots of high grass. Therefore the best chance of a finding would be in springtime. But we have high hopes!"
Source: Universe Today | Comments (16)
Tags: Parachute, Skydiving, Meteor