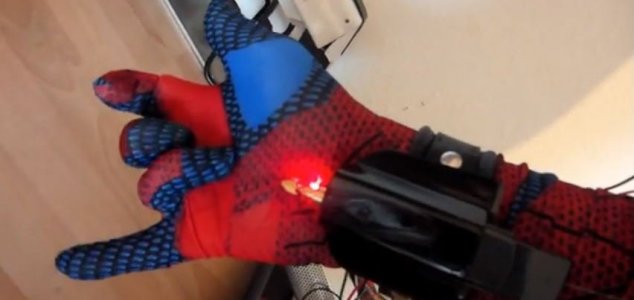 The home-made invention is surprisingly effective.

Image Credit: YouTube / AnselmoFanZero
German hobbyist Patrick Priebe has developed his own version of the superhero's web-slinging device.
To celebrate the release of "The Amazing Spider-Man 2", the lab technician and inventor decided to build his own version of the iconic web-shooter that Peter Parker uses in the movie to swing from buildings and to defeat his enemies.
The resulting invention is based on a powerful coil gun that runs on a lithium-polymer battery that can be strapped to the wrist. The device can be fired using a switch hidden beneath the glove that the wearer can operate by spreading their fingers in the same way as Spider-Man does in the movie.
The web-shooter is currently only able to fire small pellets and a harpoon in place of actual spiderwebs, but for a compact device strapped to the wrist it is still remarkably effective.
Source: YouTube | Comments (12)
Tags: Spiderman, Webshooter