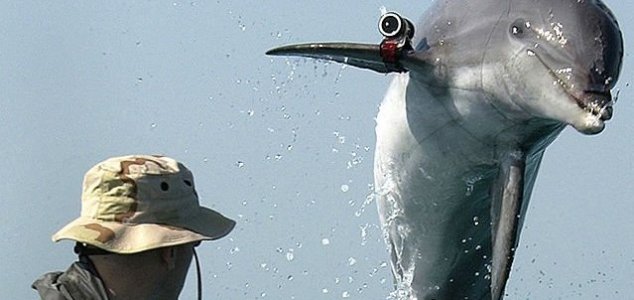 Are trained military dolphins preparing for conflict ?

Image Credit: US Navy
Specially trained dolphins could soon clash in an underwater sea battle according to recent reports.
Both the US and Ukraine are known to have trained military dolphins for years and while the specifics of these programs have been kept under wraps it is thought that the animals may be used for such purposes as sonar jamming, enemy locating, setting mines and even the destruction of submarines using explosives and kamikaze tactics.
Now with Russia's recent takeover of Crimea it is believed that the Ukraine's dolphin unit may now also be under their control. Speculation has since been rife over what Russia might do with the dolphins and whether it could lead to an actual clash between the two dolphin units, especially given that the US Navy is now believed to be deploying its own dolphins in the Black Sea as part of a NATO exercise.
"It may so happen that American and Russian military dolphins will meet in the open sea for the first time," the Russian newspaper
Izvestia
reported. "It is known that such dolphins are trained only in Russia and the USA."
Despite such speculation however the US Navy has been keen to downplay the idea of a face off with spokesman Ed Budzyna conclusively declaring that there is "no basis to the story."
Source: News.com.au | Comments (25)
Tags: Dolphins, Ukraine, Russia, Navy