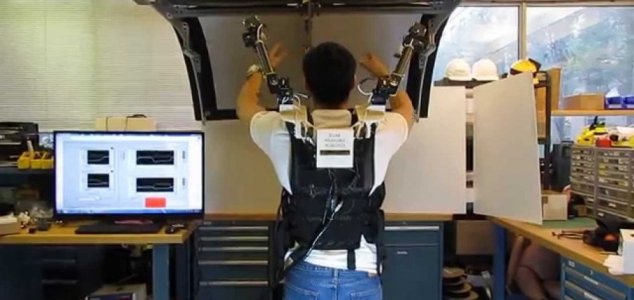 A demonstration of the robotic arms.

Image Credit: YouTube / IEEE Spectrum
Researchers have developed advanced robotic arms similar to those used by Spiderman's nemesis.
Offering the potential to revolutionize the construction and manufacturing industries, the MIT's Supernumerary Robotic Limbs (SRLs) were outlined at the International Conference on Robotics and Automation in Hong Kong this week.
While previous projects have aimed to augment or replace human limbs, the SRLs are instead designed to provide the wearer with an actual second pair of arms or legs that can be used to provide stability, lift heavy objects or to perform a wide range of other tasks that a person couldn't ordinarily accomplish by themselves.
The current prototype consists of a lightweight wearable backpack-like device to which the limbs are attached and can be used as either legs or arms depending on the situation.
The robotic limbs can only be controlled by the muscle movements of the wearer at the moment but there are plans to implement a direct brain control mechanism in the not-too-distant future.
Source: Daily Tech | Comments (6)
Similar stories based on this topic:
Tags: Robot, Arms, Dr Octopus