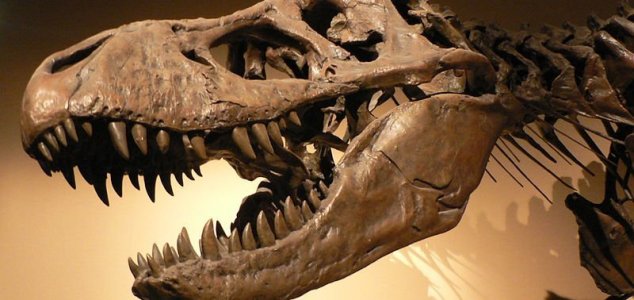 A Tyrannosaurus rex skull.

Image Credit: CC BY-SA 3.0 David Monniaux
The long-nosed Pinocchio rex is believed to be part of the same family as Tyrannosaurus rex.
With an elongated head filled with razor-sharp teeth this late Cretaceous predator would have been no less of an effective killing machine than its more famous cousin. Both species were thought to have lived alongside one another around 66 million years ago.
"It might have looked a little comical, but it would have been as deadly as any other tyrannosaur, and maybe even a little faster and stealthier," said Dr Steve Brusatte.
The new species was discovered after workmen unearthed a complete skeleton at a construction site and took it to a local museum. While the remains of two juvenile tyrannosaurs with elongated skulls had been previously identified it hadn't been clear that they belonged to a different species until now.
"Although we are only starting to learn about them, the long-snouted tyrannosaurs were apparently one of the main groups of predatory dinosaurs in Asia," said Professor Junchang Lu.
Source: Telegraph | Comments (14)
Tags: Dinosaur