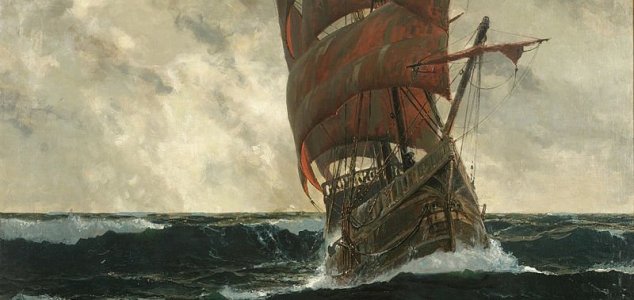 Artist's depiction of the Santa Maria.

Image Credit: Michael Zeno Diemer
The wreckage of the explorer's vessel, the Santa Maria, may have been found off the coast of Haiti.
The final whereabouts of Columbus' ship have remained something of a mystery for centuries. Back in 2003 archaeologists managed to pinpoint the specific region of ocean in which the Santa Maria is most likely to have sunk, but up until now nobody has been able to find it.
Renowned modern day explorer Barry Clifford however believes he may have finally done just that. During a new expedition funded by the History Channel, Clifford and his team have discovered what appears to be the skeletal remains of an old sailing vessel off the coast of Haiti.
"I am confident that a full excavation of the wreck will yield the first-ever detailed marine archaeological evidence of Columbusí discovery of America," he said. "All the geographical underwater topography and archaeological evidence strongly suggests that this wreck is Columbusí famous flagship."
The last known records of the Santa Maria indicate that Columbus ordered his men to strip materials from the vessel to build a fort after it ran aground during a storm on Christmas Day 1942.
Source: New York Daily News | Comments (10)
Tags: Columbus, Santa Maria