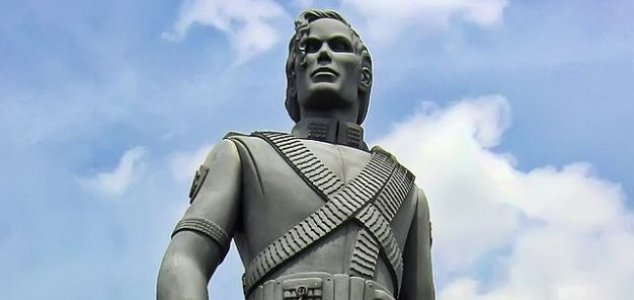 Michael Jackson's HIStory statue.

Image Credit: CC BY-SA 2.0 Sjors Provoost
A picture taken by a teenager of a Michael Jackson impersonator turned out to feature a ghostly extra.
14-year-old Reece Savva had been waiting in line at a Michael Jackson tribute concert for the impersonator's autograph when he decided to take some photographs.
Later when he reviewed the images he noticed something unusual in one of the shots - a strange blue figure in one corner that seemed to bear an uncanny resemblance to the late King of Pop himself.
"It was so eerie," he said. "There was nothing there at all when I was waiting in line. I have no idea what happened on that one picture, but it's terrifying. It was like something out of Thriller."
The photograph can be viewed -
here
.
Could the 14-year-old have really captured the image of Michael Jackson haunting the tribute acts or is there a more conventional explanation for this photographic anomaly ?
Source: New York Daily News | Comments (35)
Tags: Michael Jackson, Ghost