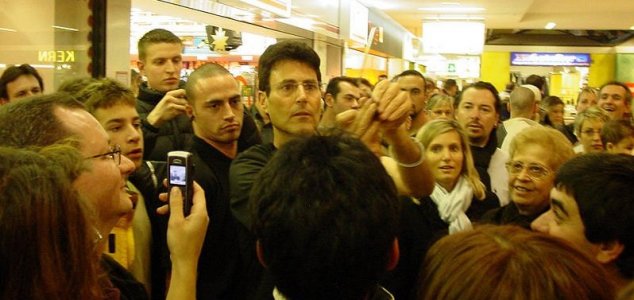 Geller bends a spoon as he is mobbed by a crowd in Switzerland.

Image Credit: CC 3.0 Aquarius2000
A bent spoon given to Uri Geller by Michael Jackson has been sold at a charity auction for £500.
The late singer had gifted the bent spoon to his friend Uri Geller when he acted as his best man on the day the celebrity psychic renewed wedding vows to his wife Hannah Geller at their home in Sonning, Berkshire in 2001.
The otherwise unremarkable piece of cutlery has been adorned with black marker pen by Geller who in memory of the occasion wrote "7 March 2001 M.J. gave me this spoon. Uri Geller." The pair had always enjoyed a close friendship up until Michael Jackson's death in 2009.
Geller himself has been a figure a controversy for years and the subject of intense criticism by former magician James Randi and other skeptics who believe that Geller's spoon-bending antics are the result of stage trickery as oppose to genuine metaphysical abilities.
Money from the auction of the spoon, which raised £500, will go towards Windsor's Thames Hospicecare. "Michael Jackson's spoon went to a local person, but I reckon it could easily re-sell for much more as it's quite a unique item that has international appeal," said Nick Willson, landlord of The Flowing Spring pub where the auction took place.
Source: BBC News | Comments (7)
Similar stories based on this topic:
Tags: Uri Geller, Michael Jackson