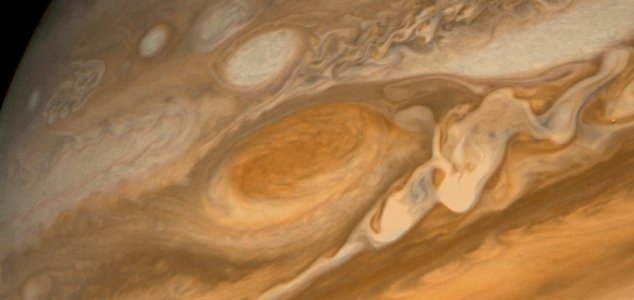 A close-up of Jupiter's Great Red Spot.

Image Credit: NASA
Astronomers believe that the famous storm in Jupiter's atmosphere is reducing in size faster than ever.
First observed through telescopes as far back as the 17th century, the Great Red Spot is a massive Earth-sized anticyclonic storm that has both baffled and intrigued scientists for years.
This could soon be set to change however as this seemingly permanent feature of Jupiter's swirling atmosphere now appears to be getting smaller at a rate much faster than ever before. The latest calculations based on measurements from Hubble suggest that the spot is now shrinking at a rate of 580 miles per year.
"In our new observations it is apparent that very small eddies are feeding into the storm," said NASA's Amy Simon. "We hypothesized that these may be responsible for the accelerated change by altering the internal dynamics and energy of the Great Red Spot."
At the current rate of reduction scientists believe that Jupiter's trademark storm could disappear altogether within as little as 17 years.
Source: CBS News | Comments (17)
Tags: Jupiter, Great Red Spot