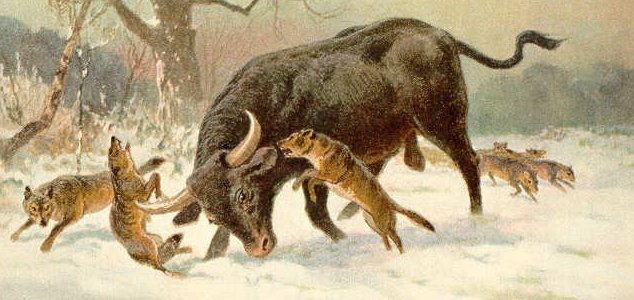 Artist's impression of an auroch being attacked by wolves.

Image Credit: Heinrich Harder
Nazi scientists had once planned to use selective breeding to bring an extinct cow species back to life.
Orchestrated by Hitler and overseen by infamous SS officer Hermann Goering, the plan was to bring aurochs, the 7ft tall horned ancestors to modern cows that went extinct in the 17th century, back to life as part of a propaganda exercise.
Weighing upwards of a ton, these bovine behemoths once roamed the wilds and forests of Europe in great numbers. Their revival was of particular interest to Goering who, as a keen hunter, saw the beasts as the ultimate hunting challenge.
To accomplish this goal the Nazi scientists planned to use a technique known as "breeding back" which involves selectively breeding animals to produce offspring with predefined traits. While this method can potentially produce a creature that physically resembles an auroch the specimen wouldn't actually be genetically related to the original auroch species.
A similar project was also undertaken in 2010 by a Dutch preservationist group who hoped to use the same technique to recreate living aurochs. If successful the project could even see the animals being used in farming in place of conventional domestic cattle.
Source: IB Times | Comments (26)
Tags: Auroch, Hitler, Nazis