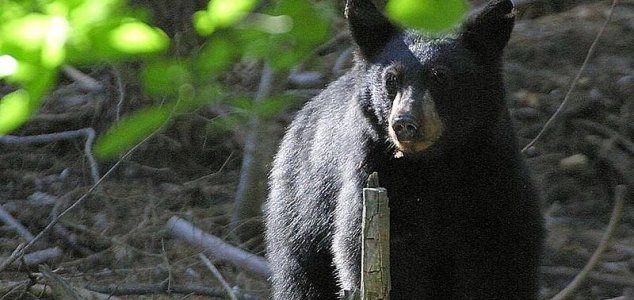 Bears are known to enter people's homes in search of food.

Image Credit: PD - Jon Sullivan
An Alaska couple were preparing for their child's birthday when a black bear fell through the ceiling.
The bear, which was believed to be a juvenile weighing 82kg, had fallen through the skylight of the house which sits along a mountainside overlooking Juneau.
Homeowners Alicia Bishop and Glenn Merrill had been preparing for their son's birthday party when they were shocked to receive the unexpected guest.
"I was literally in the room, and I heard this cracking," said Merrill. "And the next thing you know, there's this bear that, I mean, literally, fell right from (the skylight). It was like one metre away from me."
The couple hid in an adjoining room to alert the authorities while their visitor started feasting on the cupcakes. Officials believe that the bear may have been the same one responsible for gaining entry to another home in the same neighborhood.
"There probably isn't a neighbourhood or place where we have homes where the potential isn't there for you to run into a bear or observe a bear," said Ryan Scott of the Alaska Department of Fish and Game. "Bears are extremely curious and will stake out any source of food they can find."
Source: CBC.ca | Comments (18)
Tags: Bear, Alaska