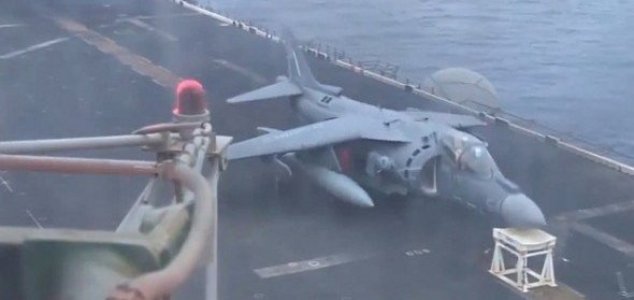 The stool turned out to be the perfect solution.

Image Credit: YouTube / The Aviationist
After a landing gear malfunction a Harrier jump-jet managed to touch down on an improvised alternative.
Attempting to land a jet on a vessel at sea would seem to be quite a harrowing exercise at the best of times, but when upon coming in to land one pilot discovered that his front landing gear was jammed there was little he could do but radio for assistance.
US Marine Corps Captain William Mahoney flew his $30 million Harrier jump-jet in as close to the landing deck as he could so that officers on board the USS Bataan could assess the problem.
Eventually the crew came up with a perfect, though unconventional solution - a tiny stool that they set up on the deck to support the front of the jet when it came in to land.
Despite the small target and the inability to see directly below him as he descended, Mahoney managed to carefully touch down on the deck with the support of the improvised prop.
"I canít see the stool," he said. "I didnít even know it was there."
Source: News.com.au | Comments (9)
Tags: Harrier, Jet