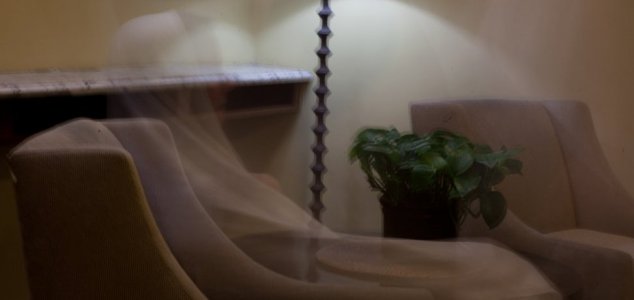 Does the ghost of Gladys haunt the building ?

Image Credit: CC BY 2.0 Ed Schipul
The ghost of a disapproving Victorian woman is said to haunt the New Look branch in Sidmouth, Devon.
Staff at the shop started to experience paranormal phenomena in April when a previously unused storeroom was disturbed on the upstairs floor.
It turned out that the room had once been the bedroom of a woman called Gladys who had lived there several decades before the building became a shop.
"That room is normally out of bounds but we had to unlock it because a health and safety visitor came to check it out," said manager Lisa Jordan. "Ever since then we've heard banging noises even though nobody is up there."
Other strange occurrences encountered by the staff include the sound of disembodied footsteps coming down the stairs, the sound of a woman sighing and strange whispering voices that terrified one woman so badly that she ran in to a table.
Staff members believe that the building may be haunted by the ghost of Gladys because she disapproves of the modern clothing styles that the shop sells.
"I think she disapproved that it was a shop and in particular the type of shop, the fact that there were too many inches and bare bellies on display," said Jordan. "But she was from a different time, perhaps the Queen Victoria era, so that's understandable."
Source: Western Morning News | Comments (9)
Similar stories based on this topic:
Tags: Ghost, Haunting