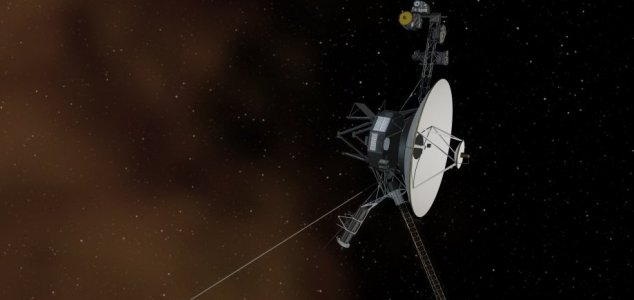 In interstellar space at last ?

Image Credit: NASA/JPL-Caltech
NASA's legendary space probe is now believed to have finally exited the solar system after 36 years.
Launched in 1977 as part of an ambitious mission to explore the outer planets, Voyager 1 has traveled more than 12 billion miles and has long been suspected of becoming the first man-made object to leave our solar system behind.
It has however been rather difficult to determine exactly at what point this milestone has been reached as the specific point at which the solar system ends and interstellar space begins is far from clear. Over the years there have been several announcements suggesting that the probe had finally achieved this goal, but each time further research had indicated that the celebrations had been premature.
This time though NASA believes that it has it right thanks to a recent tsunami of plasma from the sun.
"Normally, interstellar space is like a quiet lake," said lead Voyager 1 scientist Ed Stone. "But when our sun has a burst, it sends a shock wave outward that reaches Voyager about a year later. The wave causes the plasma surrounding the spacecraft to sing."
By analyzing the oscillations of the surrounding plasma using the probe's instruments it has been possible to confirm that Voyager 1 has finally found itself in interstellar space.
Whether this will really be the final word on the matter however remains to be seen.
Source: Independent | Comments (18)
Tags: Voyager