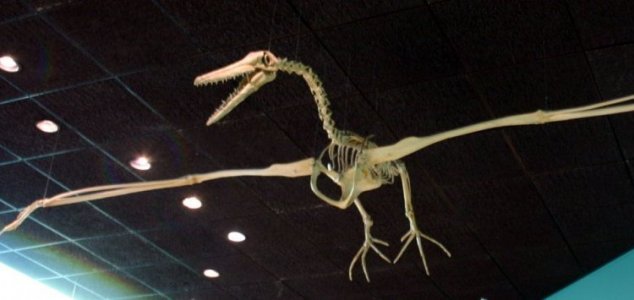 A museum reproduction of a Pelagornis skeleton.

Image Credit: CC BY-SA 2.0 Ryan Somma
Palaeontologists have revealed an enormous prehistoric bird described as a 'seagull on steroids'.
With a wingspan of 24ft, Pelagornis sandersi is the largest known bird to ever be capable of taking to the skies.
The species went extinct around 3 million years ago and its fossil remains were unearthed beneath what is now Charleston International Airport.
The massive animal possessed extremely thin and hollow bones, stumpy legs and huge wings to help it glide.
Researchers believe that it may have had to rely on air gusts and steep slopes to help it take off as its size and weight would have made it difficult to initiate flight while stationary.
Once in the air however Pelagornis would have been able to stay aloft for hours and glide for miles over the open ocean, occasionally swooping down to prey on sea creatures like eels and squid.
Source: Discovery News | Comments (14)
Tags: Bird, Albatross