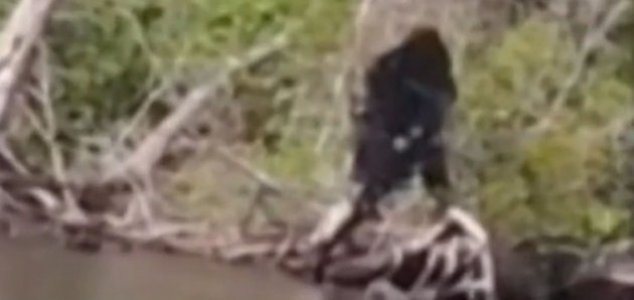 What did O'Neal's father capture on camera ?

Image Credit: YouTube / Randy O'Neal
The image of a dark-haired hominid on the banks of a river has been circulating the Internet.
The picture was uploaded by Randy O'Neal whose father snapped the spectacle while on a boat trip along the Intercoastal Waterway in Virginia last weekend.
The image has generated a significant degree of skepticism on social media due to the indistinct features of the creature with critics arguing that it could actually be little more than a tree stump or some other mundane object.
O'Neal however believes otherwise and is convinced that it is real. "I can honestly say that these are the clearest, most 'non-blurred' images I personally have ever seen," he said.
25 years ago he recalls encountering a creature with strange red eyes in the darkness during a camping trip with his father and is so convinced that the photograph shows a genuine Bigfoot that he has placed it online so that other Internet users can attempt to prove that it is a fake.
Source: Yahoo! News | Comments (80)
Tags: Bigfoot, Virginia