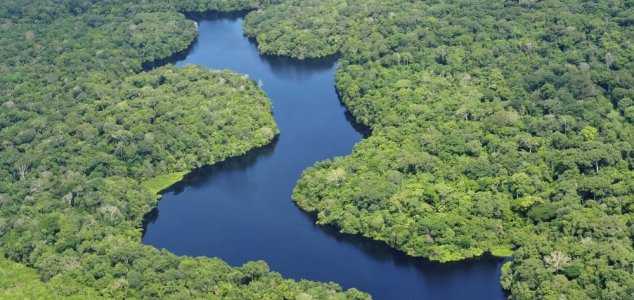 The Amazon river running through the forest.

Image Credit: CC BY-SA 2.0 CIAT
Man-made ditches found across the Bolivian and Brazilian Amazon remain something of a mystery.
The ditches, which are either straight, square or ring-shaped, indicate that humans had been engaging in major earthwork projects across the Amazon long before Europeans arrived in South America.
"People have been affecting the global climate system through land use for not just the past 200 to 300 years, but for thousands of years," said study author John Francis Carson.
For a long time it was believed that the indigenous people had used the forest's resources sparingly, cutting down only the trees that they needed before moving on to let the forest grow back.
The discovery of major earthworks however has opened up the possibility that these pre-Columbian people may have been conducting large scale slash-and-burn operations for several centuries before Columbus had arrived in the Americas.
It isn't clear exactly what the purpose of these earthworks would have been however the most likely explanation is that they were either for defense, drainage or for ceremonial practices.
Source: Huffington Post | Comments (8)
Tags: Amazon, Rainforest