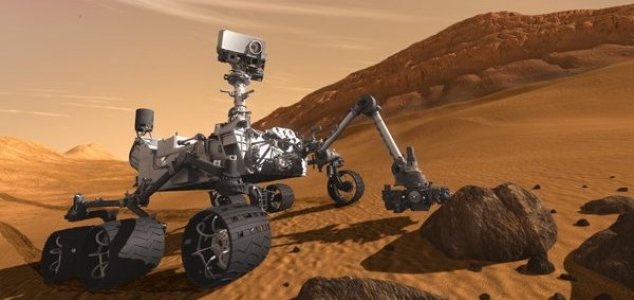 The new rover will be very much like the current Curiosity rover.

Image Credit: NASA/JPL-Caltech
The successor to the Curiosity rover will be fitted with an array of sophisticated science instruments.
The new rover, which will be very similar to its predecessor but with upgraded hardware, has been designed to carry seven scientific instruments based on proposals put forward by researchers and engineers from around the world.
This time NASA will be equipping the vehicle with tools capable of directly searching for signs of extraterrestrial life, making a potentially monumental discovery on Mars a very real possibility.
"Today we take another important step on our journey to Mars," said NASA administrator Charles Bolden. "While getting to and landing on Mars is hard, Curiosity was an iconic example of how our robotic scientific explorers are paving the way for humans to pioneer Mars and beyond. Mars exploration will be this generationís legacy, and the Mars 2020 rover will be another critical step on humans' journey to the Red Planet."
The new instruments selected for inclusion on the rover will be:
An upgraded Mastcam cabable of panoramic and stereoscopic imaging.
A SuperCam that can detect organic compounds in rocks.
An X-ray fluorescence spectrometer to analyze chemical elements and surface materials.
A spectrometer that can determine fine-scale mineralogy and detect organic compounds.
An experiment to produce oxygen from carbon dioxide.
Sensors to measure temperature, wind speed and direction, pressure and relative humidity.
A ground-penetrating radar to provide high-res images of the subsurface geology.
Source: NASA.gov | Comments (15)
Tags: NASA, Mars