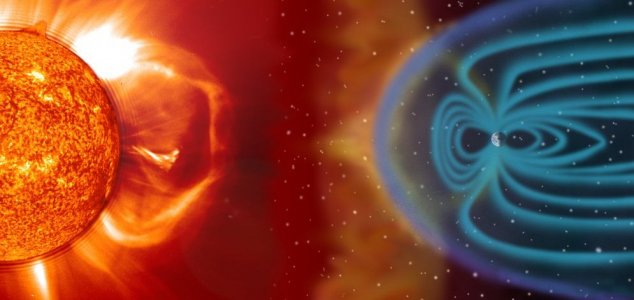 Solar storms could be devastating to modern day society.

Image Credit: NASA/Steele Hill
A particularly violent solar storm could one day have disasterous consequences for the modern world.
While huge solar storms don't tend to hit us very often, their potential to disrupt power and communications systems across the globe has been an ongoing concern.
The last time this happened was 150 years ago when a particularly damaging storm, known as the Carrington Event after the astronomer who observed the preceding solar flare, produced a coronal mass ejection with the equivalent energy of 10 billion Hiroshima bombs.
At the time the world's electronic infrastructure consisted of little more than telegraph lines, but if it were to happen again today in a world dominated by wireless communications and electronic devices the effects could prove to be catastrophic.
"Without power, people would struggle to fuel their cars at petrol stations, get money from cash dispensers or pay online," said Ashley Dale from the University of Bristol. "Water and sewage systems would be affected too, meaning that health epidemics in urbanized areas would quickly take a grip, with diseases we thought we had left behind centuries ago soon returning."
According to scientists these solar super-storms occur around once every 150 years meaning that one is now worryingly overdue. Some predict that the chance of another storm hitting us within the next decade could be as high as 12%.
Source: University of Bristol | Comments (13)
Tags: Solar, Sun