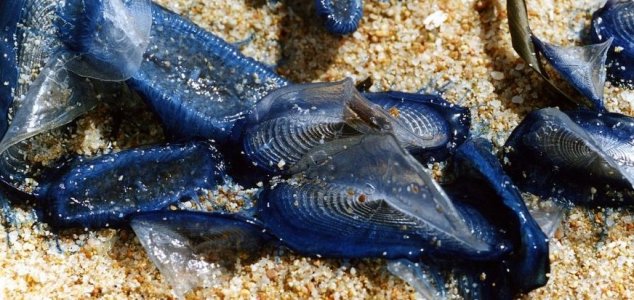 A number of velella stranded on a beach.

Image Credit: PD
Huge numbers of the organisms known as 'by-the-wind sailors' have been washing up on the West Coast.
The blue sea creatures have started to turn up on America's shores in such large quantities that in some regions they are believed to number in the billions.
Known more commonly as 'Velella velella', these organisms are actually small hybrid colonies that float on the ocean's surface where they feast on plankton. A special sail-like structure on top of each one also helps to propel them along.
Such mass strandings of the organisms tend to happen at certain times of the year when unfavorable wind conditions push them all towards the shoreline. At times these drifts can become so big that the piles of creatures can measure several centimeters deep.
"The numbers, if you extrapolate, are awe inspiring," said Prof Kevin Raskoff. "With some of my students we counted more than a thousand per metre. The numbers get astronomical pretty fast."
Source: AOL | Comments (27)
Tags: Velella, Ocean