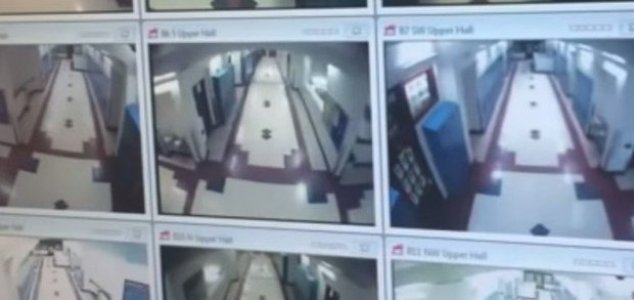 Did something paranormal cause the lights to flicker ?

Image Credit: YouTube / Pocatello Chieftain
CCTV footage has emerged of an alleged 'ghost' wandering the hallways of Pocatello High School.
The Idaho school has been home to a significant number of paranormal occurrances over the years with both students and teachers reporting strange noises, disembodied voices and sightings of a figure thought to haunt one of the auditoriums.
Now a surveillance video recorded in the building during the Christmas holidays is believed to show further evidence that something strange has been going on there.
The video, which begins with a view of the surveillance station and several different camera feeds, zooms in to one particular monitor as the footage in question is played back.
A strange shadow can be seen moving from a doorway on the left before the lights across the whole school seem to flicker intermittently as if in response to the entity's presence.
"It's a really great piece of footage," said paranormal investigator Lisa Brian. "You can just see the lights going on and off, the police were called because of these issues going on in the building."
The footage has been the subject of some heated debate since appearing online and while some believe that it shows genuine evidence of paranormal activity, others contend that the 'figure' could actually be little more than an insect walking across the camera lens.
Source: New York Daily News | Comments (15)
Similar stories based on this topic:
Tags: Ghost, Haunting