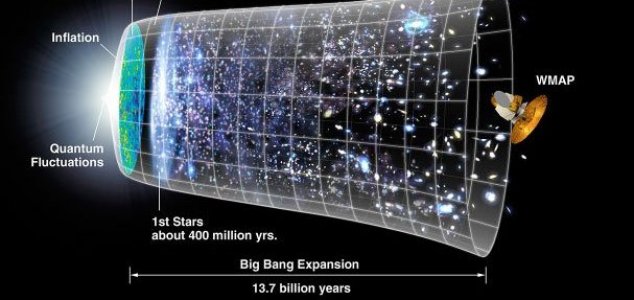 The standard model of the universe based on the Big Bang.

Image Credit: NASA
Scientists have put forward a new theory suggesting that the universe may have never had a beginning.
The current most widely accepted model of the universe's birth suggests that it came in to being some 13.8 billion years ago when everything in existence, which at that time occupied a single point of infinite density, began to expand at an exponential rate in an event that is commonly referred to as the Big Bang.
Now however scientists have put forward a radical new model in which they predict that the universe has no beginning or end at all and has instead existed for all of eternity.
The highly complex and confusing theory combines elements of both quantum mechanics and General Relativity to account for the universe's existence and even takes in to account dark matter and dark energy, two cosmological mysteries that current theories are unable to account for.
The new model also does away with the idea of singularities altogether, meaning that just as it eliminates the concept of the universe coming in to being from a single point, so too does it suggest that the universe could never collapse back down in a "big crunch" event either.
"The Big Bang singularity is the most serious problem of general relativity because the laws of physics appear to break down there," said study co-author Ahmed Farag Ali.
Source: Phys.org | Comments (120)
Similar stories based on this topic:
Tags: Universe, Big Bang