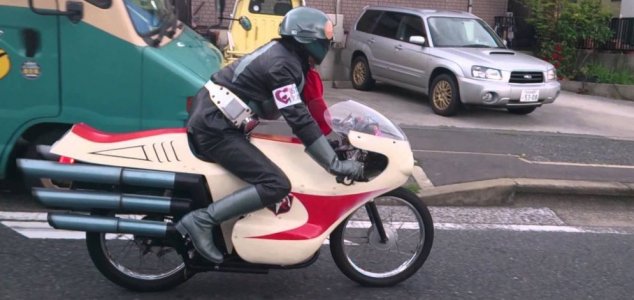 Kumagai in full costume out and about on his motorcycle.

Image Credit: YouTube
In his spare time Shinjiro Kumagai dons a giant grasshopper outfit and helps hunt down drink-drivers.
An artist by trade, Kumagai's motorbike-riding alter-ego is inspired by 1970s Japanese superhero TV series Kamen Rider 1 which followed a group of Kamen Riders ( or masked riders ) as they attempted to take down a nefarious organization.
Despite his unorthodox methods however the vigilante crime-fighter is supported not only by the local police but by a Buddhist priest called Fukumitsu who, being a huge fan of the series, contributes enough funds to help keep him out on the streets.
The insect-inspired superhero has already turned out to be quite a hit with the city's residents and he has appeared in numerous photographs and videos on social media.
His attempts to raise awareness about drink-driving have also proven to be quite effective and he has helped local authorities on several occasions by reporting any violations that he sees.
"He is doing a very good job," said a local shopkeeper. "Every city should have a Kamen Rider."
Source: Yahoo! News | Comments (20)
Tags: Shinjiro Kumagai, Grasshopper, Japan