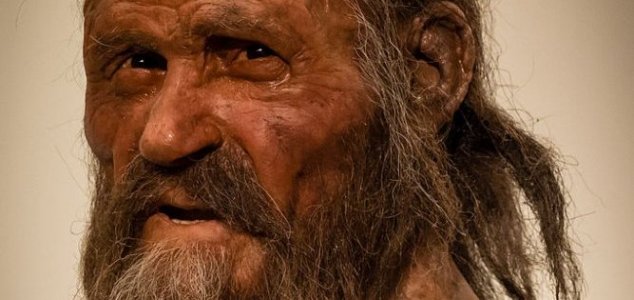 A reconstruction of what Otzi might have looked like when he was alive.

Image Credit: CC BY-SA 3.0 Thilo Parg
Scientists have succeeded in identifying red blood cells inside a man frozen in ice for over 5,000 years.
Discovered in 1991, Europe's oldest known natural mummy was found in the Ötztal Alps between Austria and Italy.
Thought to have been around 45 years old when he died, Otzi appeared to have succumbed to a lethal combination of injuries including an arrow through the shoulder and a blow to the head.
Researchers now believe that the Iceman may have been part of a raiding party that had engaged in a skirmish with a rival tribe.
Up until now his remains had never yielded any traces of blood, leading to the assumption that it had either failed to be preserved in the ice or that it had since degraded over several thousand years.
By using a nanoscopic probe to scan the area around his shoulder injury however researchers in Italy have been able to identify the tell-tale 'doughnut shape' of red blood cells inside Otzi's remains.
The technique also yielded signs of fibrin, a blood-clotting agent, suggesting that the Iceman would have likely succumbed to his injuries very quickly.
"There were still some people arguing that he survived the arrow maybe a few hours or a few days, but this was definitely not true," said study team member Albert Zink.
Source: National Geographic | Comments (24)
Tags: Otzi, Iceman