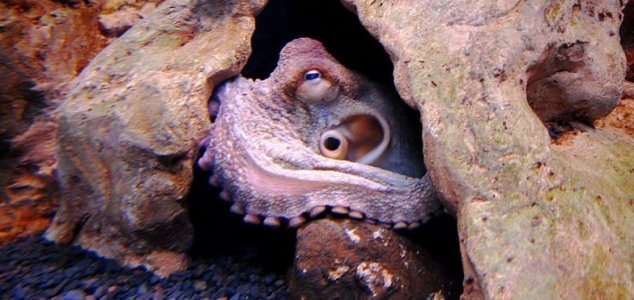 The octopus seems to have the ability to see just about everywhere at once.

Image Credit: CC BY-SA 3.0 Eistreter
Scientists have discovered that the humble octopus is able to use its skin to sense light around it.
With its eight suction-cupped limbs and skin that is able to change color to mimic its surroundings, the octopus is certainly one of the more unusual creatures to live in the depths of the sea.
Now thanks to the results of a new study published in the
Journal of Experimental Biology
however these remarkable cephalopods have been found to possess yet another unique feature to help set them apart from the rest of the ocean's wildlife - their skin contains the same pigment proteins that can be found in eyes.
What this means is that the octopus can literally sense light through its skin, an advantage that enables it to see its surroundings and camouflage its appearance accordingly.
To change color the octopus possesses a unique mechanism which uses thousands of special cells called chromatophores found just beneath the surface of its skin.
Perhaps most impressive of all however is the fact that it can do all this while color blind.
Source: The Guardian | Comments (10)
Similar stories based on this topic:
Tags: Octopus