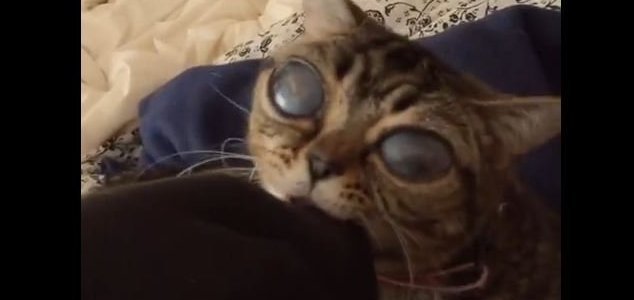 Matilda has become something of an Internet celebrity.

Image Credit: YouTube / aliencatmatilda
A cat called Matilda has been raising eyebrows online due to her extremely unusual appearance.
While at first glance it might appear as though photographs of the unusual looking feline have been subjected to a fair amount of digital tampering in Photoshop, the truth of the matter is that Matilda really does sport a pair of enormous black eyes that make her look a little bit like an extraterrestrial.
Her peculiar appearance is due to a rare condition known as lens luxation which has unfortunately left her unable to see however she is not in any discomfort and still lives life to the full.
The fearless feline has even become something of an Internet celebrity after pictures of her appeared online and she now has her own website which can be found -
here
.
"I am a visitor here," her tongue-in-cheek Instagram account states. "Pay attention to me. Have you seen anyone else that looks like this? I'm seeking my kind."
Source: Yahoo! News | Comments (16)
Tags: Matilda, Cat