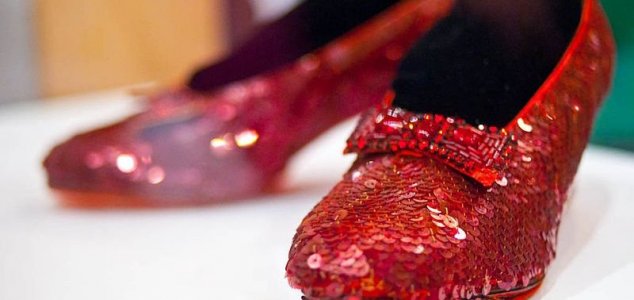 One of the pairs of slippers used in the film.

Image Credit: CC BY 2.0 Chris Evans
An anomyous millionnaire has offered a huge reward to help identify who stole Dororthy's ruby slippers.
One of only four known pairs of ruby slippers worn by Judy Garland in the original 'Wizard of Oz' movie, the priceless footwear had been on display at the Judy Garland Museum in Minnesota ten years ago when they were stolen by an unknown perpetrator who has since remained at large.
The case remains one of the most enduring criminal mysteries of recent years and police are no closer to recovering the slippers or determining who stole them.
At the time there were indications that the slippers may have been stolen by a gang of local youths however despite an offer of $250,000 for their safe return nobody ever came forward to claim it.
Believing that the slippers may have been stashed somewhere police officers conducted thorough searches of several locations including a local mine pit however no sign of them was ever found.
Fast forward ten years and now a wealthy Wizard of Oz fan has offered a $1 million reward for anyone who can help the authorities locate the slippers and catch the person responsible.
"If the slippers are sitting in a closet somewhere, somebody knows," said Judy Garland Museum board member Jon Miner. "And not just the perpetrator. We're hoping to smoke them out."
It is believed that the slippers are now worth between $2 and $3 million.
Source: Sydney Morning Herald | Comments (17)
Tags: Wizard of Oz, Ruby Slippers