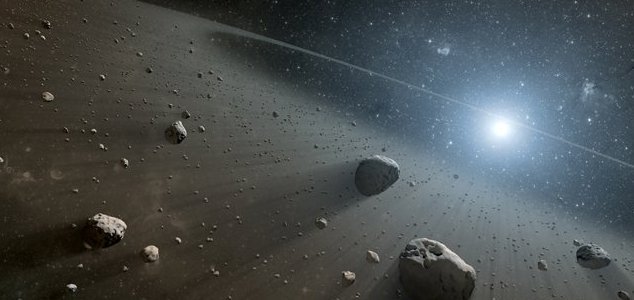 Near-Earth asteroids could offer an almost limitless supply of precious metals.

Image Credit: NASA/JPL-Caltech
A nearby asteroid loaded with a platinum core is thought to be worth an unfathomable amount of money.
Despite there being no chance of a collision with the Earth, Asteroid UW-158 has been of particular interest to scientists thanks to its status as a prime target for future asteroid mining.
The otherwise unremarkable space rock is thought to contain a 90 million tonne core of platinum - an incredibly rare precious metal - which if mined would be worth a staggering five trillion dollars.
To put this in to perspective - only 130 tons of platinum are mined each year and the entire amount mined throughout the whole of history would fit in to a box measuring just 25 cubic feet.
Its value has reignited the debate over the profitability of developing the technologies needed to send automated probes to nearby asteroids as part of commercial space mining operations.
Prospecting company
Planetary Resources
has already been making progress in this area by successfully launching its first demonstration vehicle from the International Space Station.
"The successful deploymentof the A3R is a significant milestone for Planetary Resources as we forge a path toward prospecting resource-rich asteroids," said co-founder Peter H. Diamandis.
"Our team is developing the technology that will enable humanity to create an off-planet economy that will fundamentally change the way we live on Earth."
Source: Yahoo! News | Comments (24)
Tags: Asteroid Mining