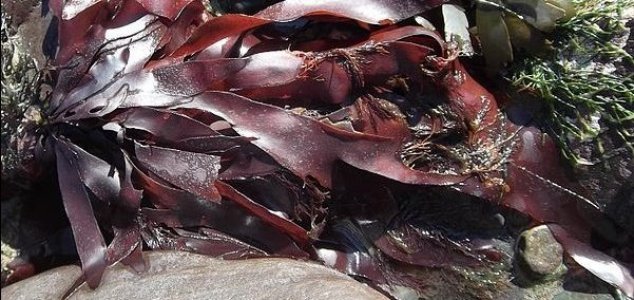 Dulse seaweed actually tastes like bacon.

Image Credit: CC BY-SA 3.0 Cwmhiraeth
Researchers have patented a new strain of healthy red seaweed with a unique and distinct flavor.
In a bid to find new food sources to help feed the planet's growing population a team of scientists at Oregon State University have created a strain of dulse seaweed that tastes rather a lot like bacon.
The maritime delicacy, which has been cultivated as a food source for centuries, has now been refined to make it easier than ever to farm reliably and could become a hit with consumers.
"When you fry it, which I have done, it tastes like bacon, not seaweed," said OSU fisheries professor Chris Langdon. "And it's a pretty strong bacon flavor."
The team had originally set out to grow dulse to feed abalone, a mollusc that is particularly popular in Asia, but once they had identified the seaweed itself as a potential food source they realized that it would be better to shift their focus towards developing products based on it instead.
"In Europe, they add the powder to smoothies, or add flakes onto food," said Langdon. "There hasn't been a lot of interest in using it in a fresh form. But this stuff is pretty amazing."
One of the biggest advantages of the seaweed is that it can be grown five times faster than most other foods and is a rich source of protein and other nutrients.
"We now have about five products that we think will be very good commercial products," said business professor Chuck Tombs.
Whether the seaweed is likely to catch on as a staple food in the West however remains to be seen.
Source: NBC News | Comments (15)
Tags: Seaweed, Bacon