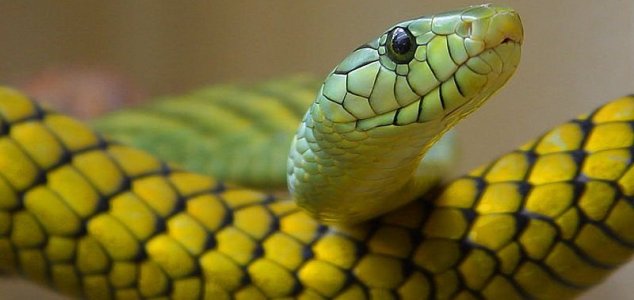 Some scientists now believe that snakes evolved from burrowing lizards.

Image Credit: PD - Whkoh
Scientists have unearthed the fossil remains of a strange species of snake with four tiny limbs.
Dating back 120 million years, the specimen belonged to a species called
Tetrapodophis amplectus
and was found within the fossil-rich Crato formation in the Brazilian state of Ceará.
Even though primitive snakes with partially formed hind legs have been discovered before, this particular specimen is very unusual because it features a full set of four limbs.
"It has very snake-like vertebrae, it has a body longer than the tail, it has hundreds of vertebrae, it has the remains of other vertebrate animals in the stomach and so it was a carnivore," said palaeontologist David Martill. "All these things make it a snake."
The legs however are very small and were unlikely to have served much of a functional purpose.
Some scientists now believe that this peculiar specimen points to the likelihood that snakes evolved from burrowing lizards, making
Tetrapodophis
a unique transitional species between the two.
There is however much disagreement over whether this is actually the case.
"I honestly do not think the fossil represents the remains of a snake," said palaeontologist Michael Caldwell. "It completely lacks key features of the vertebral column that would make it a squamate [scaled reptile] and more specifically a snake."
"I think the specimen is important, but I do not know what it is."
Source: New Scientist | Comments (10)
Similar stories based on this topic:
Tags: Snake, Lizard