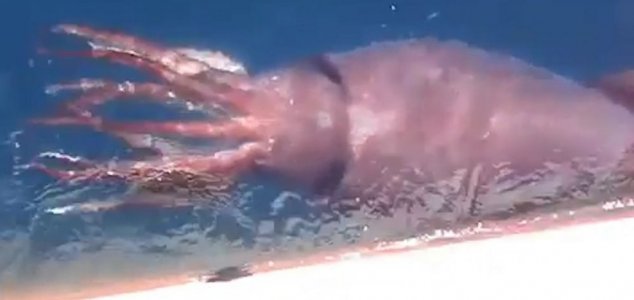 The huge cephalopod tried to feed on a fish the sailors had caught.

Image Credit: YouTube / LiveLeak
The crew of a fishing vessel recorded a huge squid attempting to make off with a fish they had caught.
One of the largest and most elusive denizens of the deep, the giant squid, which can grow up to 43ft long, is usually only seen when dead specimens wash up on beaches.
In a recent rare sighting however a group of fisherman on a Russian vessel managed to capture almost two minutes of footage showing a huge squid feasting on a large fish right next to their boat.
The video shows how the men initially tried to dissuade the squid from eating their catch using a pole before it finally lost interest and headed off in to deeper water.
Source: Russia Today | Comments (26)
Similar stories based on this topic:
Tags: Giant Squid, Russia