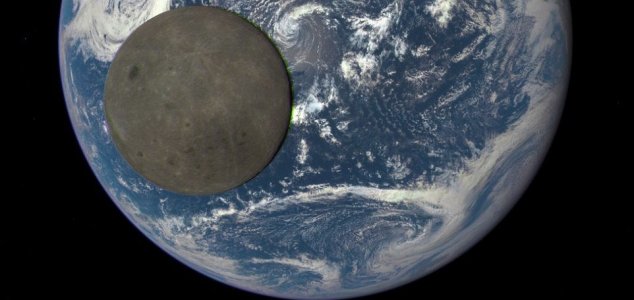 The image sequence shows the moon passing in front of the Earth.

Image Credit: NASA
NASA has released a unique video showing the dark side of the moon as it passes in front of the Earth.
While just about everyone will have gone outside on a clear night to gaze up at the moon at least once during their lifetime, what can't be seen from the surface of the Earth is the side of the moon that faces away from us - the 'dark side' that is permanently hidden from view.
Now in an impressive new image sequence NASA has revealed what the moon looks like from the other side as it passes over our planet thanks to the Deep Space Climate Observatory satellite, a spacecraft that orbits at a distance of one million miles from the Earth.
Using its Earth Polychromatic Imaging Camera (EPIC) the probe is designed to keep a watchful eye on our planet for the purpose of monitoring the climate and to help predict space weather.
The first time the far side of the moon was viewed was in 1959 by Soviet spacecraft Luna 3.
"It is surprising how much brighter Earth is than the Moon," said NASA's Adam Szabo. "Our planet is a truly brilliant object in dark space compared to the lunar surface."
Source: Sky News | Comments (31)
Tags: Moon, Earth