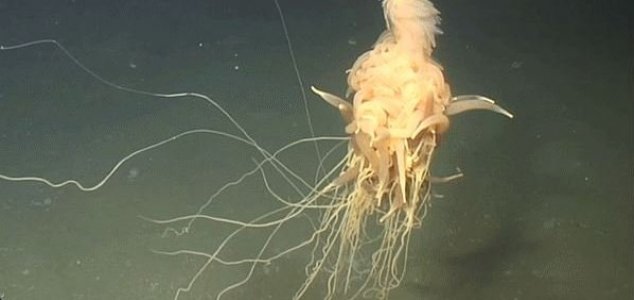 Siphonophores can grow anywhere up to 160ft long.

Image Credit: YouTube / serpentproject
An extremely unusual looking creature has been picked up on video more than 4,000ft under the sea.
The bizarre organism, which looks like it is made out of pasta, was originally filmed by a team from energy giant BP before being sent to deep sea ecology experts for further analysis.
Daniel Jones at the UK's National Oceanography Centre and his colleague Phil Pugh eventually identified the creature as a species of bathyphysa conifera - a siphonophore which, rather than being a single organism, is actually made up of a large colony of individual zooids.
"To my knowledge this creature has only been observed a handful of times," said Jones.
"The creature appears spaghetti-like because the stem is contracted up so that all the feeding zooids are jam-packed together. In a way these specialized bodies function as organs."
Despite being very fragile siphonophores can grow in length up to a staggering 160ft.
Source: Huffington Post | Comments (16)
Tags: Siphonophore, Ocean