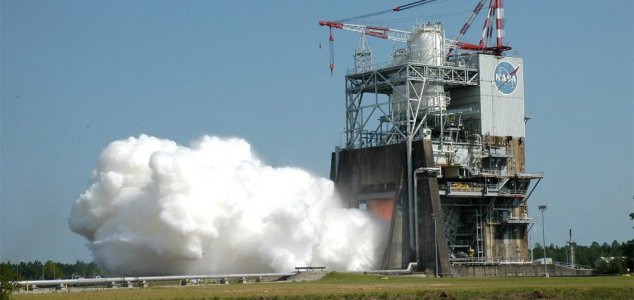 The explosive rocket test was an impressive sight.

Image Credit: NASA
NASA has been testing out a powerful new rocket engine that will one day help put humans on Mars.
The new engine is a huge step up from previous designs and will be an integral part of the space agency's new 'Space Launch System' for sending astronauts on missions to other worlds.
The enormously powerful rocket engine was fired yesterday at the Stennis Space Center in Mississippi where it produced 512,000 pounds of thrust - the equivalent to 12 million horsepower.
"It is the most complicated rocket engine out there on the market, but that's because it's the Ferrari of rocket engines," said RS-25 propulsion engineer Kathryn Crowe.
"When you're looking at designing a rocket engine, there are several different ways you can optimise it. You can optimise it through increasing its thrust, increasing the weight to thrust ratio, or increasing its overall efficiency and how it consumes your propellant. With this engine, they maximised all three."
NASA's Martin Burkey indicated that the RS-25 is so powerful compared to other existing engines that it "makes a modern race car or jet engine look like a wind-up toy."
The actual test itself can be viewed in the video below at around the 31-minute mark.
Source: CNET.com | Comments (10)
Tags: SLS, NASA, Rocket