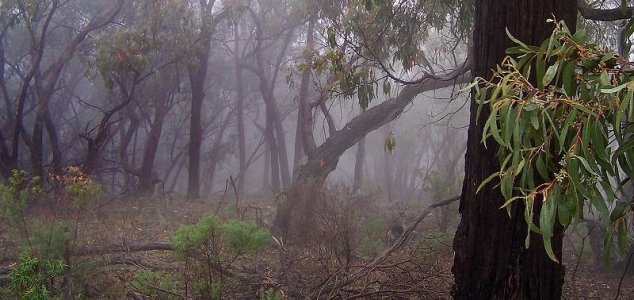 Is there something lurking in the wilds of Australia ?

Image Credit: CC BY-SA 3.0 Fir0002
A hiker has captured the image of a strange figure while out walking near a Toowoomba water hole.
Brock David had been out walking in the Australian wilderness recently when he was overcome by a sudden sense of dread and an overwhelming feeling that he was being watched.
When he later went through the photographs he'd taken he noticed one that seemed to show a bearded man dressed in red peering out at him from behind a pile of roots and branches.
"I felt like the hairs on the back of my neck were standing up, I honestly don't believe in ghosts or anything supernatural," he said. "Oddly enough I've been experiencing a similar feeling of dread every once in a while over the last week."
The eerie photograph has since proven quite popular on social media with some Internet users even claiming to have experienced a similar sense of unease just from looking at it.
Whether the picture shows anything genuinely paranormal however remains a matter of debate.
Source: Yahoo! News | Comments (42)
Similar stories based on this topic:
Tags: Ghost, Outback