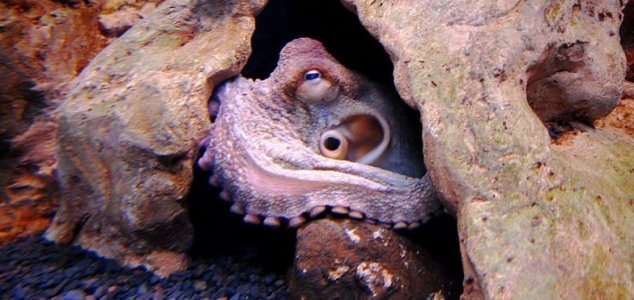 The octopus is an intelligent and inquisitive species.

Image Credit: CC BY-SA 3.0 Eistreter
An octopus named Ursula has been impressing zoo keepers with her uncanny puzzle-solving abilities.
The eight-legged cephalopod, which has long exhibited an uncanny knack for successfully manipulating any objects placed in her tank, is now considered so brainy that zoo keepers are seeking outside assistance to help them find a puzzle suitability tailored to her skills.
The two-year-old octopus has already proven adept at a range of different tasks including unscrewing jar lids, manipulating toy building blocks and unfastening catches.
"She is very active and inquisitive," said Living Coasts operations manager Clare Rugg. "She took only 10 seconds to open a waterproof casing for a camera - it took a human longer to work it out."
"We give her a lot of what we call environmental enrichment, it's what zoos do to stimulate animals mentally and physically. It's like giving toys to pets but with a more scientific basis. We would like to invite people to devise puzzles or games for Ursula."
Anyone who is able to devise a puzzle that stumps the octopus will be invited to come and meet her.
"In the past, she has had water pistols, a Mr Potato Head toy and plastic mesh cages," said keeper Sarah Tingvoll. "She interacts with anything you put in the tank, including cleaning equipment."
"One of her favourite games is to grab our cleaning equipment and have a tug of war."
"She is very strong and will always win."
Source: BT.com | Comments (14)
Similar stories based on this topic:
Tags: Octopus