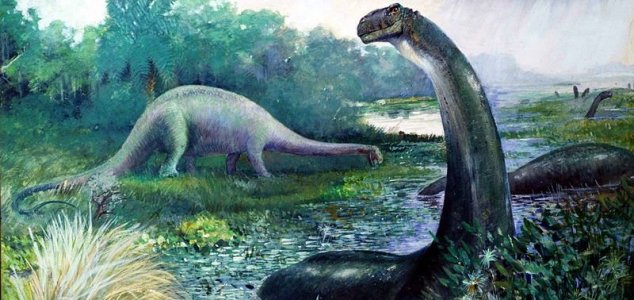 Sauropod dinosaurs frequented the area 170 million years ago.

Image Credit: Charles R Knight
Hundreds of dinosaur footprints have been found preserved in rocks along the coast of a Scottish island.
Situated off Scotland's west coast, the site has been hailed as highly significant and dates back 170 million years to a time when the area would have been at the bottom of a shallow saltwater lagoon.
"The new tracksite from Skye is one of the most remarkable dinosaur discoveries ever made in Scotland," said University of Edinburgh paleontologist Dr Stephen Brusatte. "There are so many tracks crossing each other that it looks like a dinosaur disco preserved in stone."
The dinosaurs that made the tracks, which grew up to 50ft long and weighed in at over 10 tons, were likely to have been early ancestors of Diplodocus and other well-known sauropod species.
The discovery is particularly important, not just because of the number of tracks but because it suggests that these large plant-eaters frequented shallow water and coastal regions - a find that appears to contradict the earlier belief that these animals were predominantly land-dwellers.
"This find clearly establishes the Isle of Skye as an area of major importance for research into the Mid-Jurassic period," said Dr Tom Challands. "It is exhilarating to make such a discovery and being able to study it in detail, but the best thing is this is only the tip of the iceberg."
"I'm certain Skye will keep yielding great sites and specimens for years to come."
Source: Sci-News.com | Comments (9)
Tags: Dinosaur, Skye, Scotland