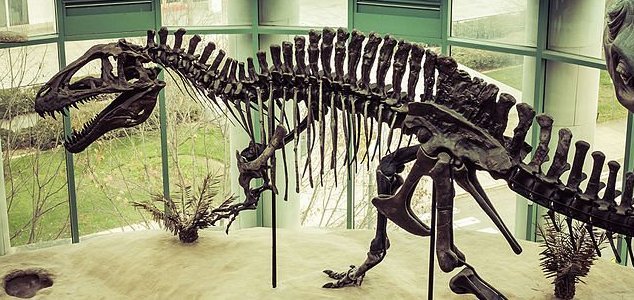 Acrocanthosaurus would have been a sight to behold.

Image Credit: CC BY-SA 2.0 Sergey Galyonkin
Like modern birds, dinosaurs were no strangers to putting on a show to attract the opposite sex.
Scientists had long suspected that some dinosaurs used their colorful feathers and head crests to attract a mate and now new evidence has been found to support this idea in the form of footprints believed to have been left by two therapod dinosaurs engaged in a dancing ritual.
The tracks, which were analyzed using 3D scanning techniques so as not to damage them, were found within 100-million-year-old sandstone rock in western Colorado.
"They were evidently very active and perhaps driven into frenzies by the excitement of the breeding season," said project leader Martin Lockley of the University of Colorado.
"This is typical of some bird species. The extensive scrape evidence suggests much high-energy activity. If small birds get excited when breeding, imagine what big theropods might have done!"
The species thought to have been involved in this ritual was Acrocanthosaurus, a bipedal meat-eating behemoth that grew up to 38ft in length and weighed in at almost 6.8 tons.
"Males are the main show offs, at least in birds today," said Lockley. "This seems to be a hormone- and instinct-driven behavior of the breeding season to attract and pair with a mate."
Source: Discovery News | Comments (18)
Tags: Dinosaur, Bird