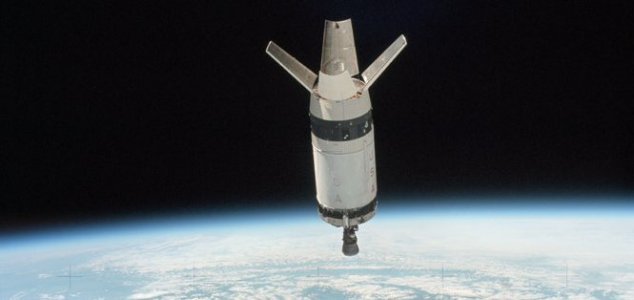 An S-IVB rocket stage in orbit around the Earth.

Image Credit: NASA
Scientists have finally discovered the spot where Apollo 16's S-IVB rocket stage impacted on the moon.
Beginning with the ill-fated Apollo 13 mission, the third stage of NASA's huge Saturn V rocket was sent to impact the lunar surface rather than being left to float through space, a move designed to provide scientists with important new data about the moon's interior structure.
While the Lunar Reconnaissance Orbiter (LRO) has since discovered the crash sites of the S-IVB's from the Apollo 13, 14, 15 and 17 missions, the Apollo 16 booster's site has long eluded detection.
Now however, more than 43 years after it smacked in to the lunar surface, the long lost S-IVB crash site has finally been located around 160 miles southwest of Copernicus Crater.
It was found using old tracking data recorded during the original Apollo 16 mission.
"The craters from the booster impacts are unusual because they are formed by very low-density projectiles traveling at relatively low velocity (2.6 km per second; 5,800 mph)," the team wrote.
"Much of the energy went into crushing the booster, and only a shallow crater was formed."
Source: Space.com | Comments (8)
Tags: Apollo 16, Moon, Rocket