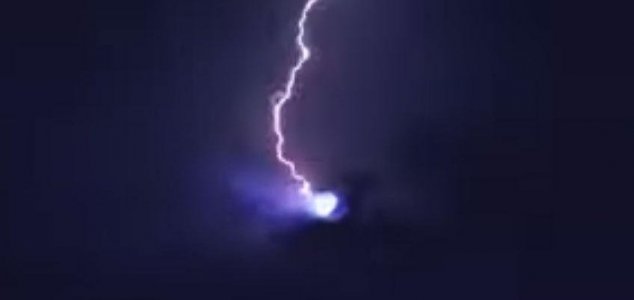 The object appeared to be struck by lightning.

Image Credit: Marie Mela / YouTube / Viral MTV
Footage recorded at the beginning of the year seems to show lightning hitting a glowing orb in the sky.
The video was filmed by student Marie Mela in the Mostviertel area of Lower Austria where she, along with a group of her friends and colleagues, had been celebrating New Year.
A few seconds in to the recording Mela pans the camera up in to the sky to record a firework, but after the rocket explodes a strange blue orb-like object can be seen hovering in the air.
A second later a sudden lightning strike hits the object, causing it to start glowing.
The video has proven quite popular since appearing online however reactions to it have been mixed with critics arguing that the footage could have very easily been hoaxed.
A local weather expert has also confirmed that there had been no lightning in the area at the time.
Source: Independent | Comments (16)
Tags: UFO, Lightning, Austria