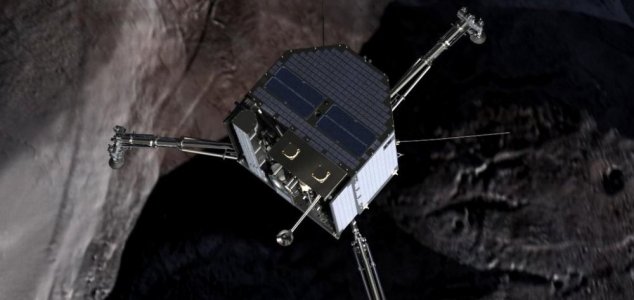 Philae was the first spacecraft ever to land on a comet.

Image Credit: CC BY 3.0 German Aerospace Center
ESA's Philae lander has gone silent and it's unlikely that it will ever be possible to contact it again.
The probe, which became the first ever to land on a comet when it detached from the Rosetta spacecraft and headed down towards the surface of 67P back in 2014, has finally fallen silent.
The mission, though highly successful, was fraught with problems from the beginning after the probe bounced off the comet on landing and ended up in the shadows where its solar panels couldn't get enough sunlight to generate the power needed to keep it going properly.
Within the space of only 57 hours the probe fell silent, however six months later, as the comet reached its closest approach to the sun, Philae was able to power itself back up for a short time.
Sadly now though, with the comet speeding away from the sun in to the cold dark of space, the chances of Philae ever waking up again are quickly approaching zero. A desperate final attempt during the weekend to communicate with the probe has unfortunately ended in failure.
"People are all very sad now, but we should not be so sad about what we couldn't achieve and be happy about all the data we could get after the landing," said project manager Stephen Ulamec.
Source: Gizmodo | Comments (13)
Similar stories based on this topic:
Tags: Philae, Rosetta, Comet