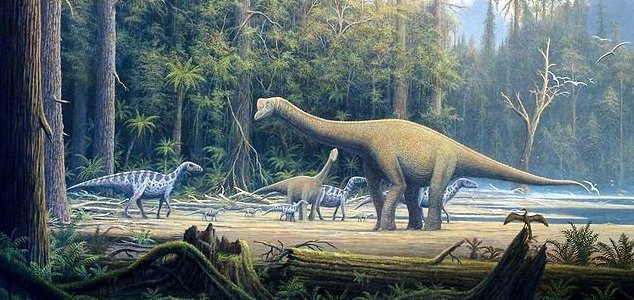 The new species was a true prehistoric giant.

Image Credit: CC BY-SA 2.5 Gerhard Boeggemann
The gargantuan reptile, which measured 37 meters in length, was recently unearthed in Argentina.
The largest dinosaur ever to walk the face of the Earth, this colossal beast would have weighed in excess of 70 tonnes - that's equivalent to 920 average human adults.
Its massive thigh bone, which at 8ft long is itself taller than a human, was discovered in 2014 at a farm in Argentina's Chubut province. Paleontologists who went to the site to investigate eventually managed to dig up a further 220 bones belonging to seven dinosaurs of the same species.
Excavation leader Dr Diego Pol described the find as a "palaeontological crime scene."
"According to our estimates this animal weighed 70 tones," he said. "A comparison of the back bones shows that this animal was 10 per cent larger than Argentinosaurus, the previous record holder. So we have discovered the largest dinosaur ever known."
Now with scientists having carefully pieced together what this enormous creature would have looked like, a reconstruction of its appearance - along with detailed information about the discovery - is set to be revealed by naturalist Sir David Attenborough in a new BBC series on Sunday 24th January.
An official name for the new dinosaur however has still to be determined.
Source: Independent | Comments (10)
Similar stories based on this topic:
Tags: Dinosaur